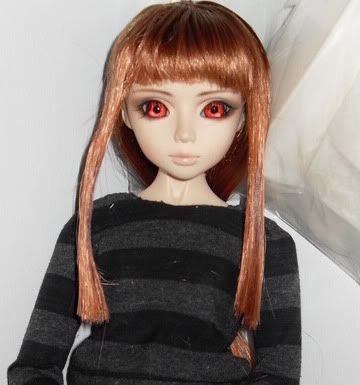 I finally got around to dying and styling Nazoko's wig. Her hair is actually supposed to be cherry red, but at least it's not blonde anymore. It's kind of coppery. Anyway, it'll do until I can get her the wig I actually want for her. Her eyes are also supposed to be orange, but... I can't find orange eyes. .__.;; So she's borrowing Tet-chan's red ones.
Yeah, I was supposed to go to bed an hour ago, but my allergies are trying to murder me, so instead I'm sitting up being miserable and watching
The Daily Show
. I love this show, but Lewis Black is on tonight and he srsly grates on my nerves. >>; Ah well.